The screwdriver is a tooling agent that can be manual or power and it is used for screwing and unscrewing screws. Its shaft is made up of tough steel to resist twisting and bending.
A simple screwdriver consists of a handle and a shaft, that ends with a tip and for the user, it puts into the screw head before turning the handle.
A simple form of the screwdriver has been replaced in many workplaces and homes with a more modern and versatile tool, a Power Drill because they are quicker easier, and can drill holes too.
Now we are going to study different types of screwdrivers in every detail,
Different Types of Screwdriver:
The following 14 different types of Screwdriver are following:
Flat Head or Slotted Head Screwdriver
Phillips Screwdriver
Torx Screwdriver
Hex Screwdriver or Hexagon Screwdriver
Robertson or Square Screwdriver
Pozidriv Screwdriver
Clutch Head or Bow Tie Screwdriver
Frearson or Reed and Prince Screwdriver
Hex Socket or hex screw drive
JIS (Japanese Industrial Standard)
Battery-Operated Screwdriver
Magnetic Screwdriver
Ratcheting Screwdriver
Right Angle Screwdriver
#1. Flat Head or Slotted Head Screwdriver:
A flat-head screwdriver has a wedge-shaped flat tip that is used to tighten or loosen screws that have a straight and linear notch on their heads. This is arguably the most common tool in the mechanical field and the ubiquitous flat-head screwdriver.
This comes in every shape with a handle attached to a steel shaft that is flattened into a wedge shape at the tip.
While flat head screws aren't used extensively in residential construction anymore, they can still find them in furniture construction, small cabinetmaking projects, and some electrical applications.
It is installed with plate covers on outlets and switches and also where it's not to over-tighten a screw.
These screwdriver bits are used for ratcheting screwdrivers and drills, it is labeled by both the size of the tip and the length of the steel shank.
Tip sizes vary, from fractions of millimeters (which are tiny enough to tighten eyeglass screws) up to an inch or larger (fit for industrial size screws).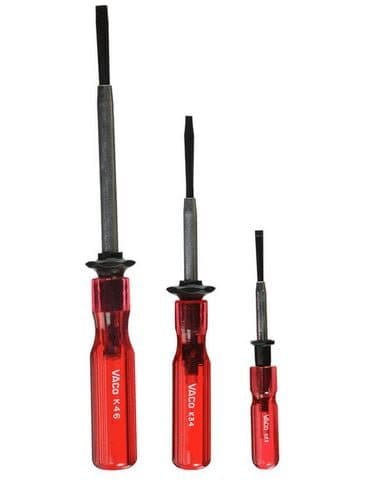 #2. Phillips Screwdriver:
Phillips screws, identifiable by a plus on their heads, are widely used for construction and woodworking purposes. It is also the crosshead screwdriver when the X-shape blade fits into the head cavity snugly so it provides better traction when tightening or loosening the screw.
It is used with power tools originally, electronics standards are also set.
A screwdriver manually works fine when it has just one or two screws to install, but construction projects use a number of screws notoriously. Option for a power drill with interchangeable Phillips bits for the most efficient build.
Best For Multipurpose building and remodeling, especially drywall installation. This screwdriver with a power cord is designed to install Phillips drywall screws specifically.
In Philips screwdriver pre-set the screw depth takes place and eliminates chances of under-or over-inserting a drywall screw.
We can fit the screwdriver deeper into the screw head and there is no blade sliding out sideways. These drivers are intentionally designed to slip out of the head when a certain torque limit is exceeded, which depends upon strength and weakness.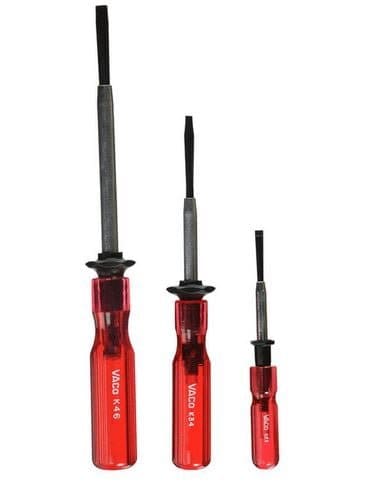 #3. Torx Screwdriver:
Torx screw is the favorite of builders and serious DIYers and it is sometimes called the star screw. It has a 6-point recessed star tip in sizes that range from 0.031" to 0.81" and are designated by T numbers (from T1 to T100).
The most common sizes are T15 and T25, and it is fitted in every size available. Power drill users like Torx screws for the same reason they like Robertson screws because they resist slippage with power application.
Torx screws are commonly used for structural framing, finish work, and even as wood-to-concrete fasteners. It features magnetic bits that assist in keeping the screws in place on the drill tip.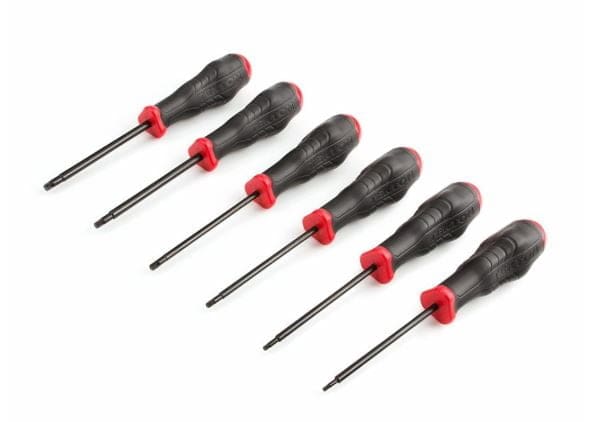 #4. Hex Screwdriver or Hexagon Screwdriver:
Screwdrivers and bits come in size to fit the hex-head screw recesses from around 0.03" to 3/8". Hex-head screws are small in size and commonly found in doorknobs, towel bars, and some mechanical installations.
The designs consist of a tapered square-tipped screwdriver that fits into a matching square recess in the screw head.
It requires a hex key screwdriver also known as an Allen screwdriver to tighten or loosen.
Allen-type screwdrivers are L- or T-shaped screwdrivers, also Allen bits are come for ratcheting screwdrivers and drills.
For example, Installing small fixtures such as towel bars. It pays to have a variety of tip sizes available in the market. Allen Hex Screwdriver Xcelite's 11-piece set has interchangeable Allen bits in sizes ranging from 0.050"- 3/16" also it has an optional extension bar for restricted spots. It is the fastening system that would provide a firmer hold and less slippage than conventional slotted screws and screwdrivers.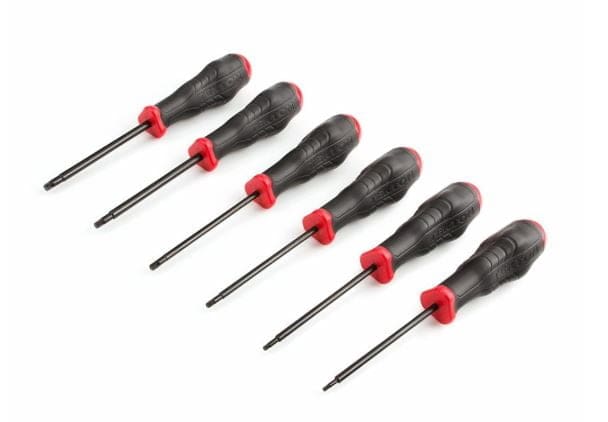 #5. Robertson or Square Screwdriver:
This is the least common of the common screwdrivers and has perhaps the highest torque tolerance of all drive types.
Squarehead screws are commonly found in the automotive and furniture industries because of their durability.
Cushion grip is provided for better handling and skips the slippage and quick driver size identification. It has a precision machine tip for exact fit.
It has an integral flange inside the handle providing a better solid twist-resistant blade anchor.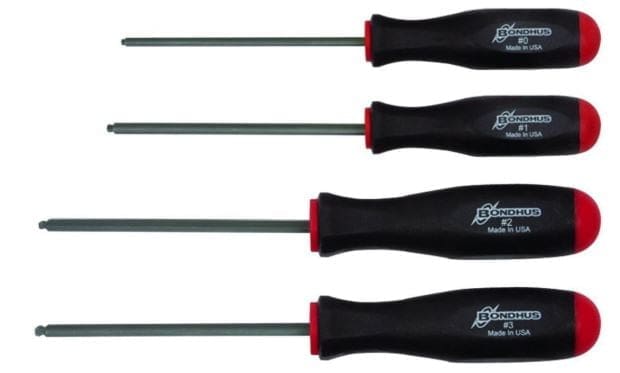 #6. Pozidriv Screwdriver:
Pozidriv also is known as "Pozidrive". It is an improved variation of the Phillips drive design. The company GKN Screws and Fasteners created the Pozidriv design after the patent for Phillips's head expired.
The Pozidriv drive style was originally formed to solve the issue come in Phillips screwdrivers that are prone to cam-out. The slipping out of a drive recess that occurs when torque exceeds a certain limit is called cam-out.
The Pozidriv drive has the same design as a Phillips drive style of self-centering. Increased torque without cam-out and Greater surface contact engagement between the drive and the recess in the fastener head making it harder to slip are the main features.
Pozidriv screws can be used like Phillips screws but are easily available. This drive is still extremely popular in manufacturing due to its self-centering design.
It provides a balance of strength and efficiency also its handle is designed for faster rotation in low-torque applications, for a comfortable grip and higher performance.
The screwdrivers are packaged that can easily be stored in a tool chest for storage.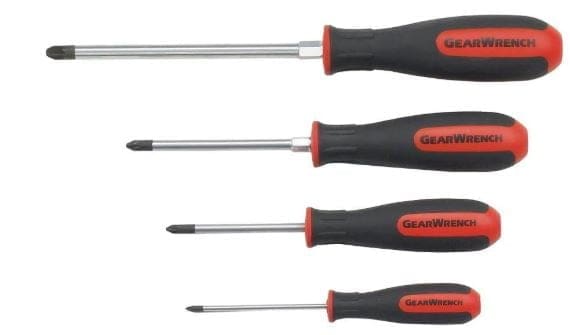 #7. Clutch Head or Bow Tie Screwdriver:
Clutch head screws have got design changes from the last few years. The slots resemble a bow tie, with the older version having a circular recess in the middle. They have application in the automotive industry as they are popular in recreational vehicles.
A clutch head screwdriver will have better torque with these heads and are designed with slotted drives a security version of a clutch screwdriver that can be screwed one way with a slotted screwdriver. It cannot be easily removed.
These are found mostly in places where maintenance is infrequent, such as bus stations or prisons. Helical-cut steel, heat-treated steel gears for long life.
#8. Frearson or Reed and Prince Screwdriver:
At first glance, this variation of the screwdriver is the same as Phillips but has some important differences.
The tip of a Frearson comes to a sharp point, as compared to the Phillips has a rounded point. the angle of the tip is closer to a 45-degree angle than on a Phillips.
The Frearson screwdriver due to its shape allows for higher torque than a Phillips and the ability to carry just one drive.
Its main applications are in nautical equipment where precision and a smaller set of tools are required. Frearson (Reed and Prince) screwdriver bits from Cooper Tools.
It avoids typical problems such as shattering and premature bit wear. In the power tool, applications insert bits are commonly used with a bit holder. This combination is economical, provides flexibility, and allows a fastener to be magnetically held by the bit. It is placed directly into the power tool chuck.
Acetate handle is impact and chemical resistant. Serrated tip for maximum grip and reduced slippage. Blades are forged from high-strength alloy steel Ergonomic acetate handle is impervious to most solvents and chemicals.
Size identification stamped in the base of the handle Color-coded handle for easy tip identification. It Meets ANSI specifications.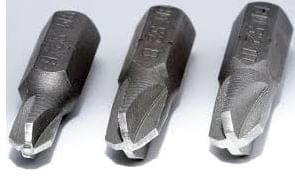 #9. Hex Socket or Hex screwdriveR:
Socket drivers can be very useful in mechanical industries. Socket drivers have a socket instead of a blade and tip, thus it acts as a socket wrench. The advantage of using a hex socket is when the moment we try to reach the recessed bolt.
Socket wrenches have a handle that runs parallel to the surface in which the bolt is embedded, requiring additional space to turn.
The straight shank and handle of a hex socket mean that you can turn such bolts with very little clearance. It is applicable for low torque applications but used with a normal ratchet plus socket combo for maximum applications.
The hex socket screw drive has a hexagonal recess and is driven by an Allen key, hex key, or hex screwdriver. A hex screwdriver features a hexagonal tip for driving certain nuts, bolts, and screws.
Hex screwdrivers are available in an extensive range of both standard and metric sizes. These screwdrivers can make the process of loosening and tightening hex nuts, bolts, and screws much easier.
Hex nuts, bolts, and screws can be made out of many metals, such as aluminum, brass, copper, and any grade of steel.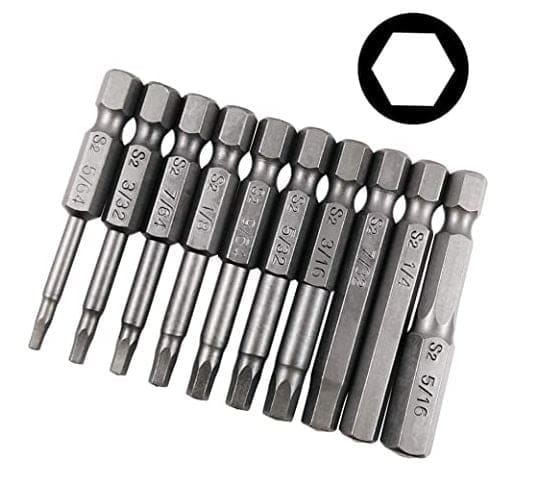 #10. JIS (Japanese Industrial Standard):
JIS (Japanese Industrial Standard)is one of the most recognized types and probably the most commonly used driver in your toolbox for fastening cross-point screws. It has no "cam-outs" and damaged screws on Japanese brand products.
Its main advantage over the Phillips screwdrivers was that the self-centering design allowed operators to engage the tip of the driver into the screw head very quickly and easily.
The Japanese industrial Standard has self-centering and quick tool and screw engagement. It allowed torque and over-tightening to be controlled by the operator and not at the head of the screw.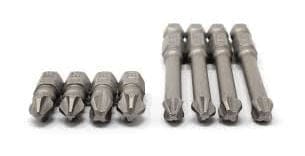 #11. Battery-Operated Screwdriver:
Hitachi is renowned all over the world for the quality of its electronic and electro-mechanical products. Therefore, it did not come across as a surprise when their DB3DL2 cordless screwdriver kit surpassed my expectations.
Powered by a 1.5Ah battery, the tool easily completed all jobs I threw at it. The manufacturers have included two battery packs, ensuring that the user could keep on doing his job with one battery while charging the other.
The dual position handle was one of the primary factors that led me to purchase this device.
Let us dive in and see how this beauty performs. This tool is ideal for hobbyists, DIY enthusiasts, computer repair specialists, electricians, appliance repair personnel, as well as professionals.
Its lightweight along with its powerful LED light ensures that one can use it for tasks that are beyond the reach of other similar devices. For example, you can use it to remove and fix screws in computers without disassembling it.
It is the perfect tool when you need to lie beneath an object and there is hardly enough space between the floor and the working area.
While this tool is not ideal for major driving or drilling, it is perfect for general light screw driving tasks. The torque is great even at the lowest setting and works fine up to the last few seconds of battery life, a feature that other similar devices cannot boast of.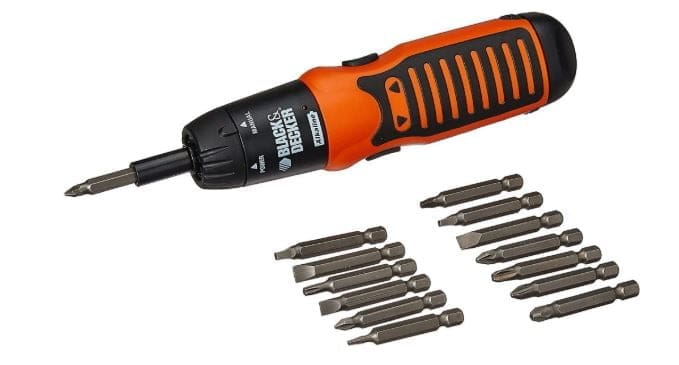 #12. Magnetic Screwdriver:
Magnetic-tipped screwdrivers have a large application that is handy and make the screwing application very easier as magnetic bits attract and hold small screws and come comes with 2 double-ended bits Sizes 5/32 in., 1/8 in., 0PT, 1PT.
It is applicable in small electronics industries when trying to place screws in hard-to-reach locations. Its use is easy because they stick to your screwdriver. You can magnetize your existing screwdriver using a rare earth magnet instead of buying new sets of magnetic-tipped screwdrivers.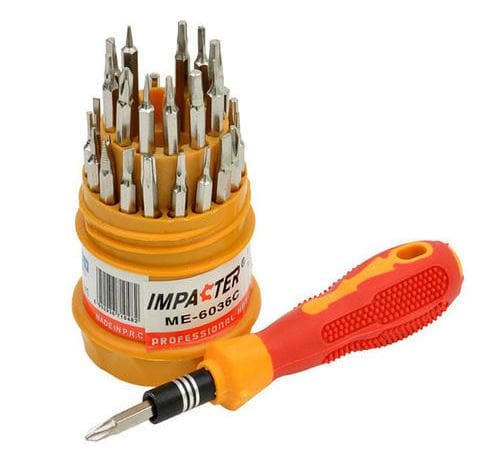 #13. Ratcheting Screwdriver:
Ratcheting screwdrivers reduce the lift as well as saves time. It repositions the screwdriver tip after every turn. Ratcheting screwdrivers have an internal ball-bearing mechanism that allows the user to make multiple turns of the screw with an easy back-and-forth wrist action.
By switching a button on the screwdriver the ratcheting action can be changed from one direction to the others so that it is applicable to insert screws like clockwise directional motion and remove screws by the counter-clockwise direction of motion.
Yankee screwdriver operates on a spring-loaded ratcheting principle that has a specific ratcheting screwdriver mechanism.
The tip of a Yankee screwdriver in the screw head pushes firmly toward the screw Instead of using wrist action to turn the screwdriver. The pressure causes the screwdriver shank to turn and the tension spring inside pushes the handle back to make it to the starting position.
#14. Right Angle Screwdriver:
They are designed to turn at right angles.
The 8 piece right-angle screwdriver is designed to get into areas with only 1 in. of clearance. The convenient ratcheting mechanism provides ample torque for tightening and loosening hardware. The screwdrivers come with 7 hex bits.
Designed to get into hard-to-reach areas – requires only 1 in. of clearance! Includes 7 hex bits: PH1, PH2, PH3, 3/16 in., 1/4 in., T15, and T20 Convenient ratcheting mechanism.
It has a forged steel handle and precision tips that can be inserted anywhere even in narrow locations. Tips are precision formed to fit the fastener and the Shaft is forged from high-strength alloy steel.
It meets ANSI specifications and has 90-degree offset bits that enable the user to get around obstructions Including 4 different bit sizes.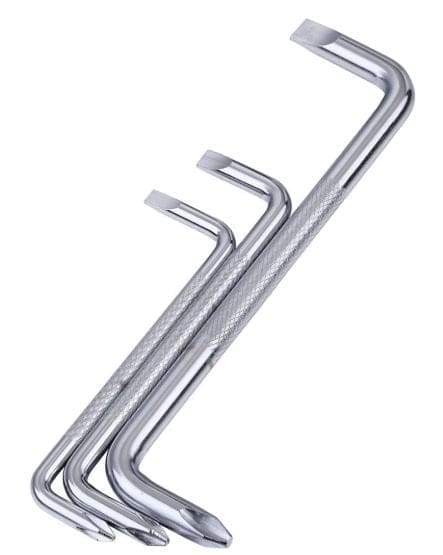 Screwdriver Types Video:
Screwdriver Application:
Screwdriver is used at several places like:
Manufacture of furniture, electronics, carpentry, and jewelry.
Square Recess typically used in the manufacture of furniture due to the efficiency of the drive.
Torx typically used in the electronics and automotive industries.
Hex typically used in the manufacture of furniture.
Some electronics manufacturers use this drive to prevent users from tampering with their products.
Spanner typically used with electronics, restroom doors, and elevators.
Internal Resources:
---
Refernce [External Links]:
---
So here we have studied all the different types of screwdrivers in detail. Do share this article with your friends and family.