Hello, In this article we will read Difference Between Nuts and Bolts in detail. And at the end you can download PDF of this articles.
Nuts and Bolt are important accessories used everywhere. Whether you are a carpenter, mechanic, or working at any place the nuts and bolts required for tightening or loosening the components with the help of different types of wrench.
If you reading this article on mobile, tab, or laptop there is also nut and bolt is used inside or if you are seating on the tale, chair (not plastic), bench there you can see nut and bolts are being used.
Now tell me can you classify nuts and bolts in detail? Obviously, your answer will be yes because you know it is for a joint between another component. This is only one difference.
When you scroll down you will see I have explained many points in brief that points will help you to understand differences in detail.
Without further delay lets start our topic,
What are Nuts?
Nuts are types of fasteners and have threaded hole and it is used with bolts to join another component. Nuts are usually made up of carbon steel coated with zinc.
The various types of nuts are Square nut, Cap nut, Acorn nut, T- nut, Hex nut, Castle nut, Slotted nut, Nylon insert lock nut, Jam nut, Nylon insert jam lock nut, Coupling nut.
The most important type of nuts found and used today is Hexagonal nuts in various industries. The reason behind using hexagonal nuts is that it offers more granularity.
What are Bolts?
Same, the bolts are also a type of fastener and it is being inserted into the nuts, both having a good combination of their thread frictions and joints. Bolts are made up of steel, chrome, and nickel.
There are many types of bolts used in the industry some of them are Shoulder bolt, Square head bolt, Stud bolt, Timber bolt, T-head bolt, an Anchor bolt, Carriage bolt, Hanger bolt, Hexagon bolt/Tap bolt, U-bolt, J-bolt, Elevator bolt, Lag bolt, Machine bolt, Plow bolt, Toggle bolt, Flange bolt, Eyebolts and so on.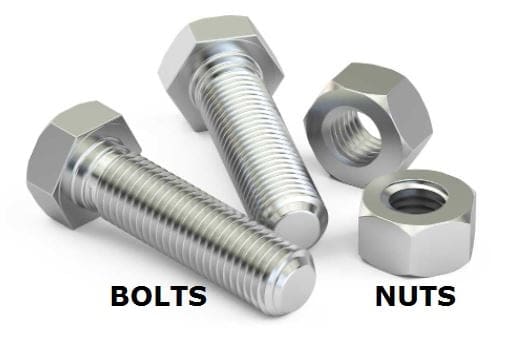 Difference Between Nuts and Bolts:
I have explained 10 Points on difference between Nuts and Bolts:
| | |
| --- | --- |
| Nuts | Bolts |
| A Nuts have internal threads whereas | The bolts have external threads. |
| Nuts do not have heads. | And the bolts have headed for tightening and loosening. |
| It is hollow circular cylinders with a circular cross-section. | But the bolt is solid cylinders with a circular cross-section |
| Nuts used with the bolts for tightening. | Bolts used with nuts for loosening and tightening. |
| In size, the nuts are smaller and | The bolts are larger compared to nuts. |
| In Shape, It is a hexagon so that it is easy and firm to grip from all sides. | But the bolt shape is not hexagonal. It has one head connected with a long thread shank. |
| While in use a nuts experience compressive forces and when the compressive stress is it gets fail. | While in use a bolts experience tensile forces and when the tensile stress is it gets fail. |
| It has a lock mechanism to prevent loosening. | Whereas it does not have any lock mechanism to prevent loosening. |
| The several types of nut are Square nut, Cap nut, Acorn nut, T- nut, Hex nut, Kep nut, Castle nut, Slotted nut, Nylon insert lock nut, Jam nut, Nylon insert jam lock nut, Coupling nut, and so on. | The various types of bolts are Shoulder bolt, Square head bolt, Stud bolt, Timber bolt, T-head bolt, an Anchor bolt, Carriage bolt, Elevator bolt, Lag bolt, Machine bolt, Plow bolt, Toggle bolt, Flange bolt, Hanger bolt, Hexagon bolt/Tap bolt, U-bolt, J-bolt, Eyebolts and so on. |
| This is being made by using carbon steel coated with zinc. | And the Bolts are being made of high-quality steel and large amounts of chrome and nickel. |
Nuts vs Bolts
Internal Resources:
---
Reference [External Links]:
---